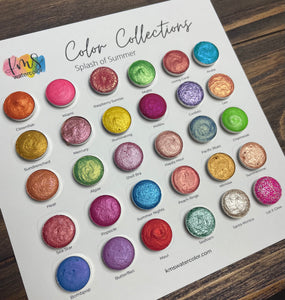 "Splash of Summer" color collection includes these 30 shimmer colors:
Clownfish, Miami, Raspberry Sunrise, Mojito, Living Coral, Aruba, Sun drenched, Mercury, Illuminating, Malibu, Confetti, Leo, Heat, Algae, Shell Bra, Happy Hour, Pacific Blue, Chartreuse, Sea Star, Popsicle, Summer Nights, Peach Rings, Mimosa, Summertime, Bomb pop, Butterflies, Maui, Sea foam, Santa Monica, and Let it Glow.
SAMPLER INFORMATION:
Samplers are a great way to try out new paints without the commitment to a full half pan. These sample sized pans hold 1/4 of a half pan. Please be aware that some paints may be glued into the bottom of the pans due to the nature of their pigments. While I do package samplers safely, KMS Watercolor is NOT responsible for any samplers that arrive broken.
All paints are Non-toxic
Contact me at:
Kmswatercolor@gmail.com
Follow along on Instagram for updates, sneak peeks and sales
@kmswatercolor