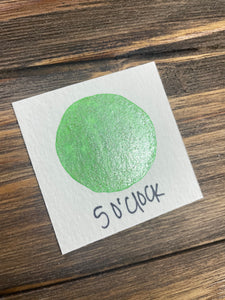 KMS Watercolor "5 O'Clock" is a shimmery green with microfine glitter.
"5 O'Clock" is in the "Tropic Like It's Hot" set.
Each of our colors are made with high quality, non toxic, ethically sourced pigments and micas. Acacia gum is used to bind the paint together. Vegetable glycerine is used to prevent cracking and to improve re-wetting. A small amount of clove oil (natural preservative) is added to prevent mold growth. Each paint is made by hand, the traditional way with muller and slab and are slowly air dried. KMS Watercolor paints are non-toxic and vegan.
This listing is for one half pan.
For more info on KMS Watercolor paints please visit the "Product Info" page.
If you have any questions, please check our FAQ or contact us!